The Birch Bay Quilters have been hard at work!
They have made many items that will benefit the residents of the Stafholt Good Samaritan Center in Blaine. They include clothing protectors and lap quilts. Creativity and love has gone into every item that has been made. All fabrics come from donations, and their quilt drawings fund the additional supplies that they need to make the items.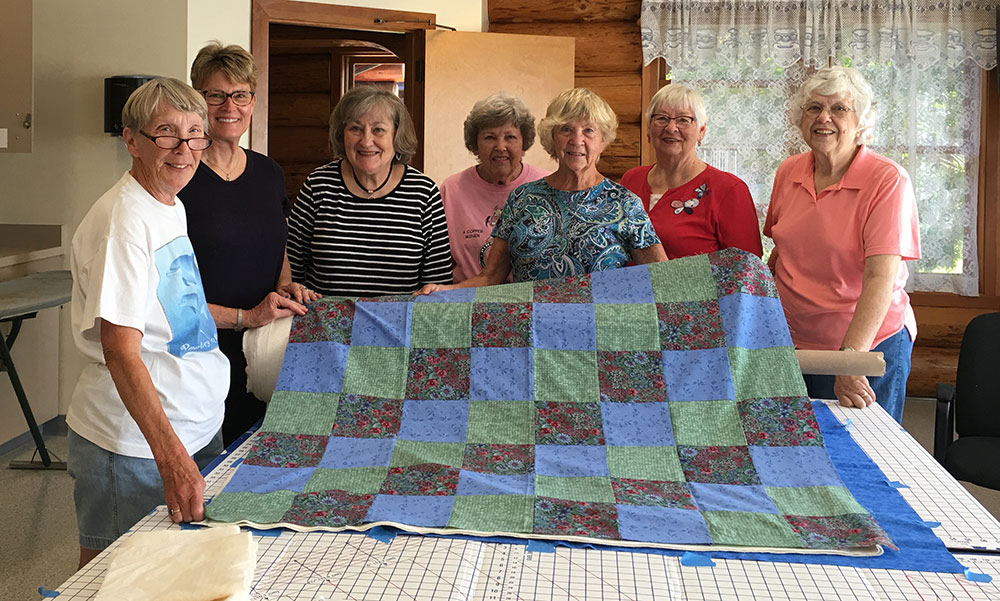 The above is just one of the lovely items made by the Birch Bay Quilters. From left to right, they are: Sue Wickersham, Marge Guilfoyle, Irene Vergith, Carol Jenkins, Hazel Rutherford, Clara Kiel, Marcia Slaton. Absent are CoCo Giacolino and Rogene Hiatt.
Quilt Drawing Coming Soon!
A drawing to win this beautiful quilt will occur on August 27 at the Rib Dinner. The TICKET must be present to win! Contact a quilter to obtain a ticket. All proceeds go to purchase materials for the quilters that in turn create donated items for charity.
Foster Children Receiving Bags
Quilter Carol Jenkins has made many bags and pillowcases to distribute to foster children. The bags also include toiletries such as shampoo, a comb, and a toy.
More from the Quilters
Below are additional photos showing the work that they do:
If you see any of these ladies at the park, be sure to let them know how much their work is appreciated!